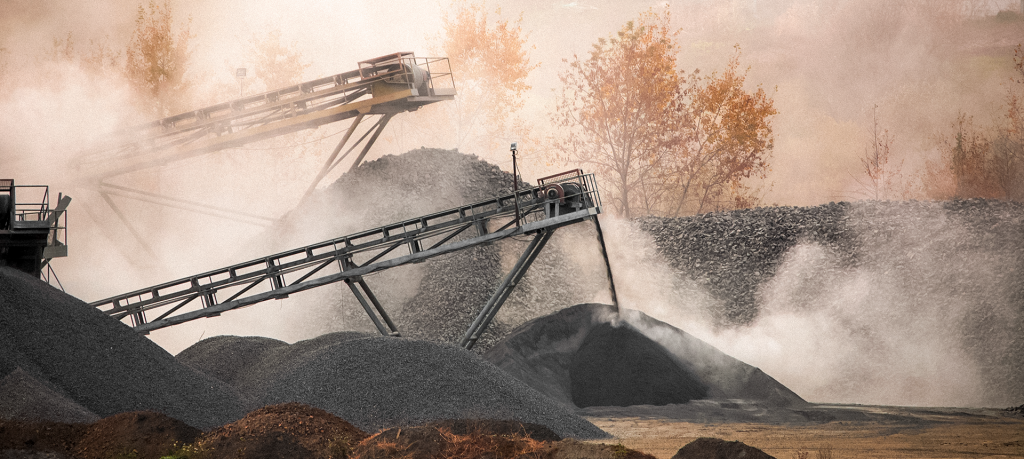 Conveyor Belts are present in several segments and have a very important mission: to transport various materials such as iron ore, grains, coal, cement, and lumber.
Due to the great diversity of items and conditions in which they operate, they need customization for each type of undertaking, offering resistance to abrasion, high temperatures, oil, rips, impacts, chemical reactions, and various other challenges.
If you want to know more about Conveyor Belts, their history and characteristics, you are in the right place. Continue reading!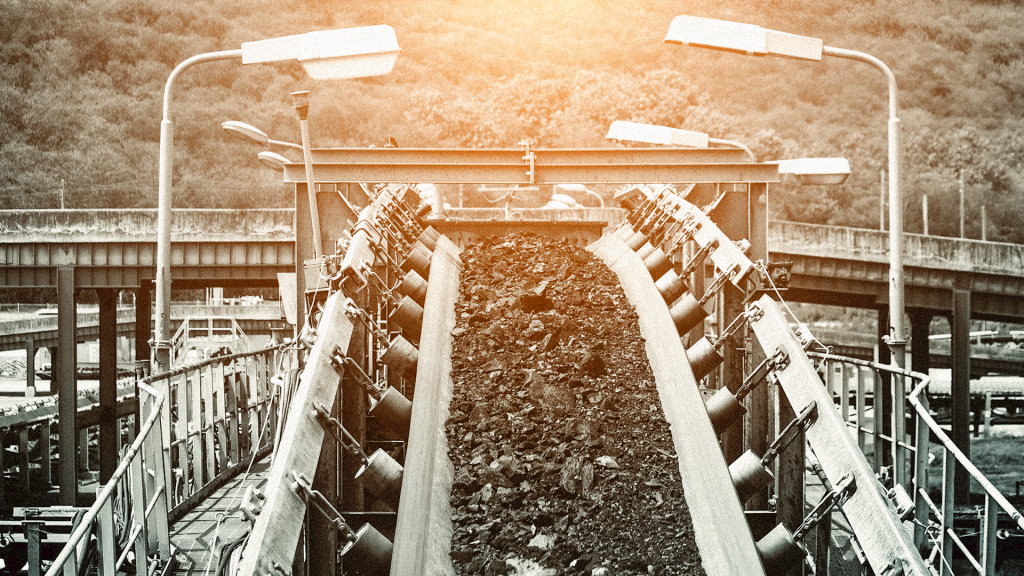 Conveyor Belts are fundamental and indispensable for carrying various materials and are present in the industries of the most different sectors of the economy.
Conveyor Belts are components responsible for moving solid bulk at high volumes continuously by moving on pulleys and idlers.
These equipment are responsible for being a part of the flow of production, ensuring lower cost per volume transported, greater safety, reliability, agility in operations, and operational guarantee.
Composition of a Conveyor Belt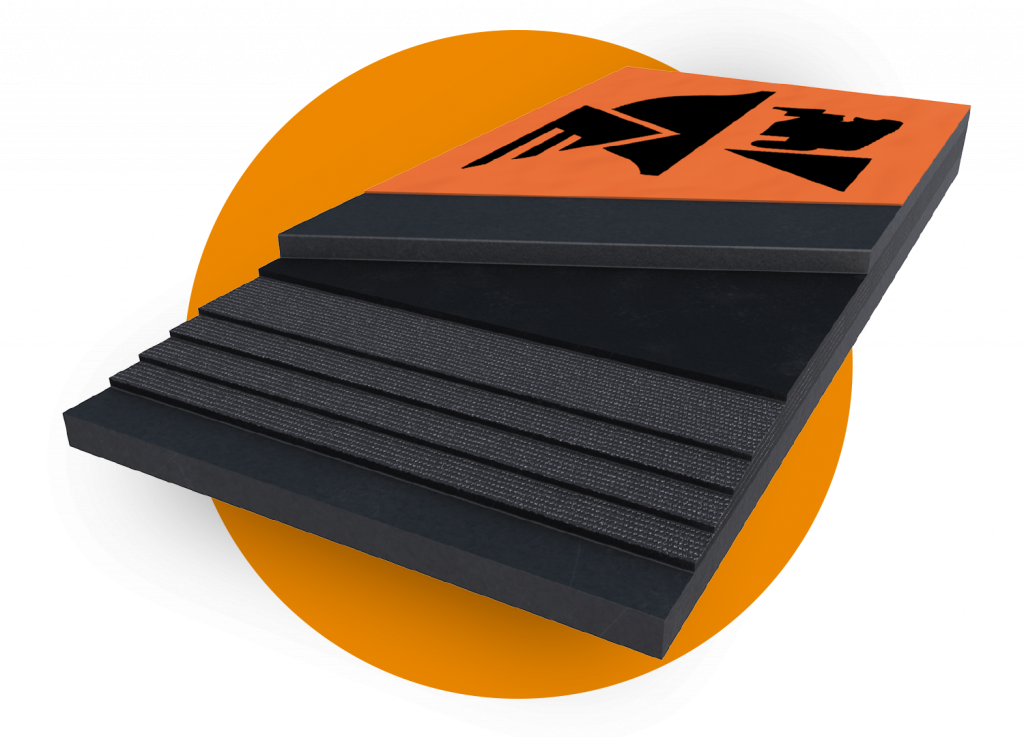 The actual belt consists of three basic elements: upper and lower covers, bonding rubbers, and the carcass.
The covers, which have the main function of protecting the belt carcass from the effects of the material carried, must be resistant to cuts, grooves, rips, and abrasion.
The carcass on the other hand is considered the belt's element of strength and is responsible for bearing the load, tensions, bends, and impacts, while the bonding rubbers ensure the joining of the covers to the carcass and help keep the entire set cohesive and flexible.
How did Conveyor Belts come about?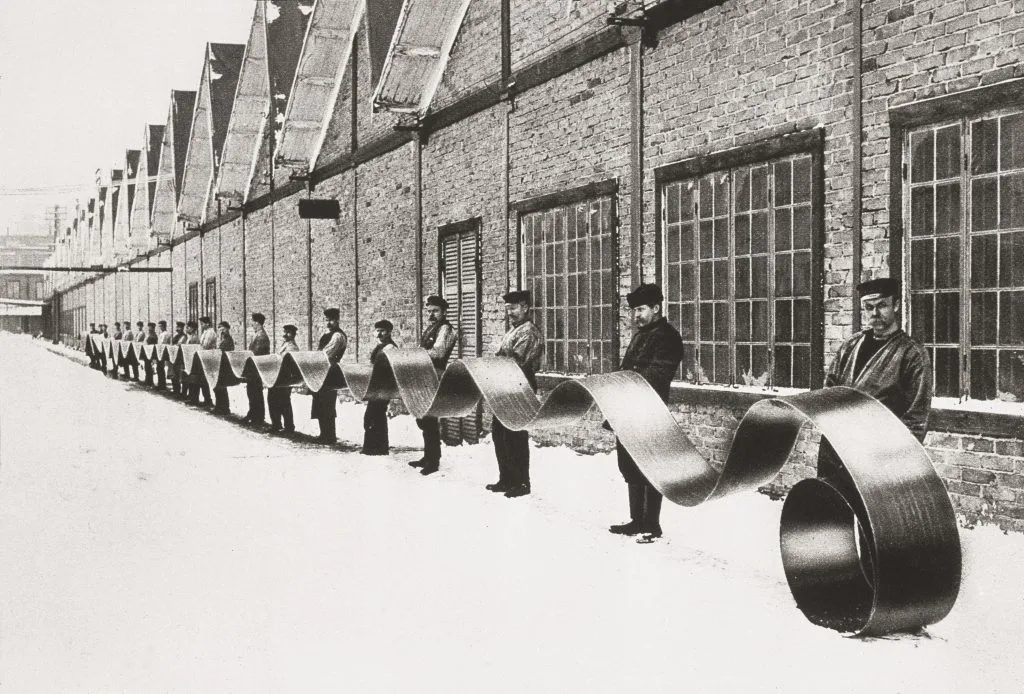 A historical record of the first conveyor belts can be found in England in the second half of the 18th century as a result of the technological advances during the Industrial Revolution.
At first they were built with tarpaulin, leather, or rubber that slid across flat wooden surfaces. At that time it was rudimentary equipment for cargo transport and used specifically in bakeries and slaughterhouses.
Next they were used for transporting cereals to ships across relatively short distances. Gradually Conveyor Belts were improved and in 1804 the British Navy installed a steam-driven Conveyor Belt.
At the beginning of the 20th century, Sandvik, a Swedish company, invented the Conveyor Belts with a steel cord carcass that were used for transporting sand, charcoal, and sugar cane.
The system was progressively improved throughout the 20th century, further expanding its use among the most diverse industrial segments.
During World War II, due to the scarcity of natural resources, synthetic material was introduced as an item in the composition of Conveyor Belts. It was around this time that in 1945 Mercurio Conveyor Belt was born in a small shed in Jundiaí (SP).
Over the years Conveyor Belts have been improved, gradually increasing their importance in industrial processes.
In recent decades, with advanced products and constant investment in new technologies, Conveyor Belts have become necessary equipment and present in operations that drive the world economy.
We are proud to be part of this history of continuous evolution of Conveyor Belts for more than 75 years, becoming the absolute leader in this segment in Brazil and the largest Conveyor Belt manufacturer in Latin America.
Where are the Conveyor Belts used?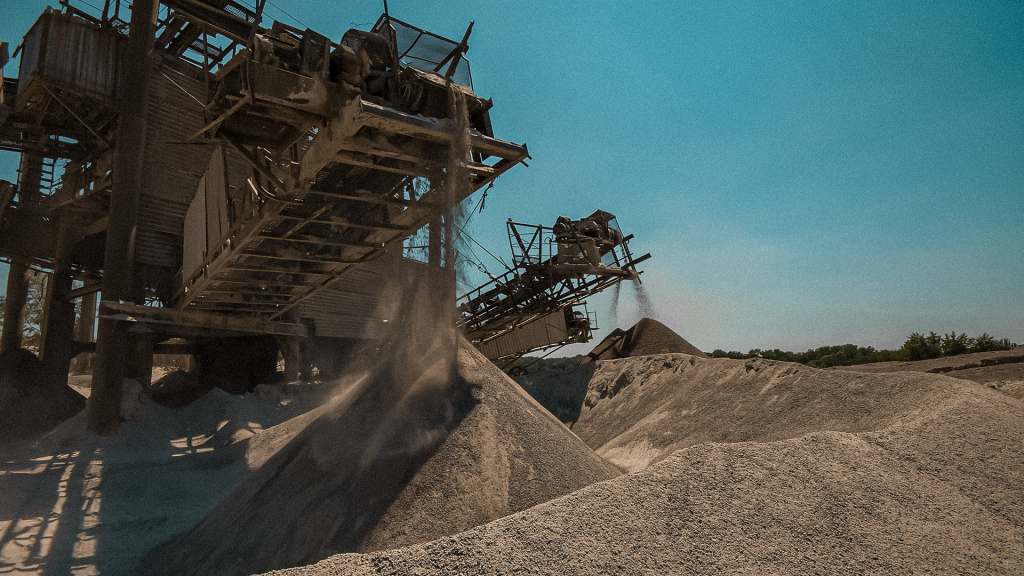 Conveyor Belts are present in several segments ranging from Mining, Steel, and Agribusiness all the way to the Paper & Pulp sectors, Ports, and Cement Plants.
They offer versatility and safety for transporting solid bulk over long and short distances with a high capacity of load transported.
We at Mercurio Conveyor Belt have developed the most customized types of Conveyor Belts that meet the needs of customers from various industries around the world.
They are essential industries to maintain the economic strength of cities, states, and countries, generating thousands of jobs and driving the global economy.
Our Steel Cord, Textile, and Aramid Conveyor Belts, for example, have features that ensure the most efficient and safe transportation of materials, whether they be iron ores, incandescent materials, or cereal grains.
The customized solutions are developed in our laboratories with the monitoring of our Technical Team in order to meet the specifications of each operation.
Components of a Conveyor Belt System
Operational Safety: Inspection on Conveyor Belts
A careful inspection of Conveyor Belts is critical in order to reach a precise analysis of the operating conditions of each component of the system. In addition to ensuring the smooth operation of the equipment and the best performance of the Conveyor Belt, inspecting the Conveyor Belt offers greater safety to employees, preventing accidents from happening by correcting problems that may occur during the process.
It is important to follow the basic safety guidelines before starting a Conveyor Belt inspection. We have highlighted some of them below:
Fill in the work permits and carry out a risk analysis of the areas to be visited.
Use personal protection equipment considering the need for specific equipment to walk through the area to be visited such as a long-sleeve shirt, a reflective vest, among others.
Be up-to-date with your health to perform the activity (e.g., measure your blood pressure).
Carry a flashlight, tape measurer, paper to take notes, possibly draw up an inspection checklist, something to take pictures in order to record occurrences, and a radio frequency meter device.
Have the itinerary of the inspection route in hand.
Once all safety guidelines and items have been checked, you can proceed to the Conveyor Belt visual inspection, item by item, namely: Loading chute, Sealing skirtboards, Pulleys, Idlers (Load and Return), Cleaning Systems (Scrapers and Cleaners), Tensioning and Drive System (motor, coupling, reducer, and safety devices).
Mercurio Conveyor Belt: the largest Conveyor Belt manufacturer in Latin America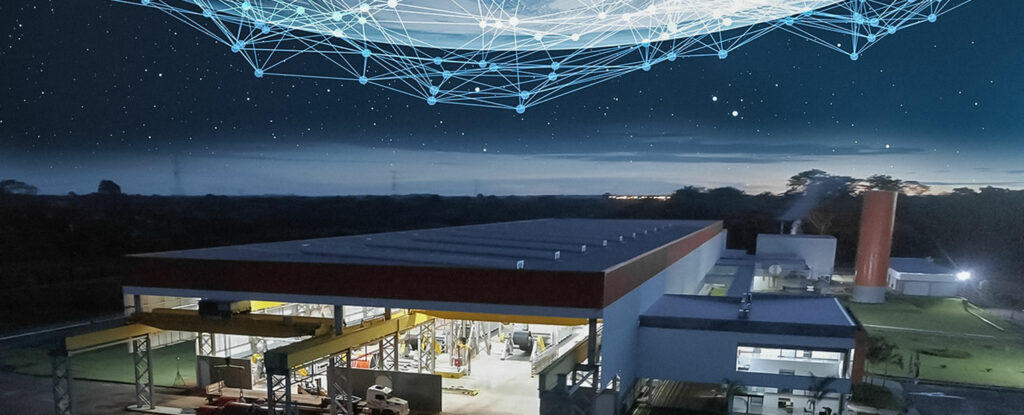 Mercurio Conveyor Belt is a company specialized in conveyor belt solutions with more than 76 years of growth and experience. Over these years we have become the largest manufacturer of conveyor belts in Latin America and the absolute leader of this segment in Brazil.​
In our DNA we carry the mission and the commitment to transport wealth to build, transform, and feed the planet.​
With two plants in Brazil, in the states of São Paulo and Pará, and international offices in Chile, Peru, and Mexico, we operate with a global presence in more than 40 segments and in the largest Mining, Steel, Agribusiness, Logistics, Ports, and Construction companies and groups.
We offer a complete portfolio of solutions of the most common conveyor belts all the way to the most complex and modern ones developed exclusively for each customer.
Our Technical Sales Team is highly specialized and has the best expertise and a solid track record, having provided top professional services for more than 76 years.
We are prepared to bring the excellence and quality of the Mercurio brand to every place in the world. You can count on us!​
The largest stock of Conveyor Belts in Brazil, ready to be delivered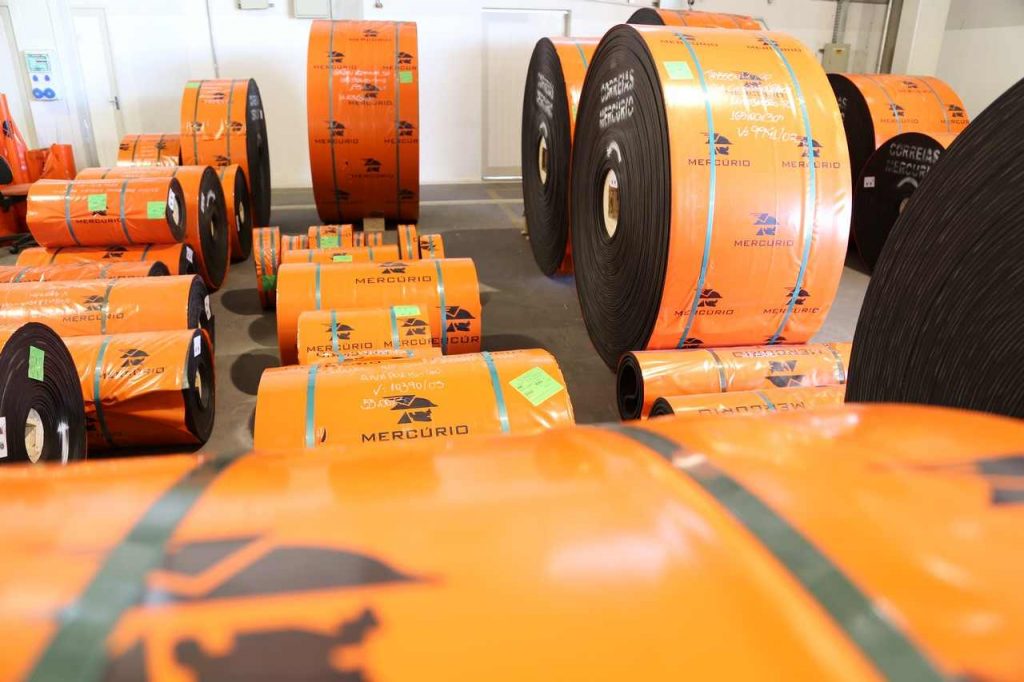 In order for your operation to flow smoothly and safely without unexpected downtimes all year round, you need a partner capable of delivering quality and agility to meet your needs.​
The Mercurio Distribution Center has the largest stock of Conveyor Belts in the country, ready to be delivered, and it is located in a privileged and strategic location near the city of São Paulo along the main highways of the state with direct service and sale to customers across Brazil.
Our Distribution Center is able to offer Conveyor Belts of the most diverse characteristics to be used in the transport of grains, ores, cement, fertilizers, sand and aggregates, steel materials, among others, meeting the specifications of our customers. To complement this, our Logistics Center has automated processes that ensure greater agility when shipping the product.
Need quality Conveyor Belts and customized technical service? Contact our team right now: