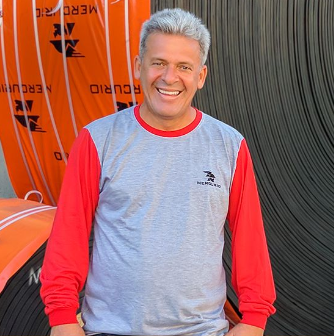 Marco Cipriano is our honored guest to interview today. Check out this very special interview that he has given us!
What is your story at Mercurio Conveyor belt?
I started at Mercurio in 1990 in the production department, more specifically in the splicing area. Then I was transferred to an inspection press and later on was called to work in stock.
I went through several stages in that sector because in the beginning Mercurio produced other types of conveyor belts.​
As time passed and the belt production increased, there was a need for change and we invested in a space to allocate the entire stock as the movement of merchandise was just too big.​
Then finally I was invited to work in the shipping and heavy cargo sector, which is when I started dealing with the large conveyor belts.​​
What does Mercurio represent for you?​
It represents everything in my life. Everything I have done and reached has been with Mercurio. I raised my daughter, bought my house, and just to have the dignity to live without relying on anyone.
Mercurio very much captivates the people who work here. Our involvement is very great. After almost 31 years at Mercurio, the words I find to define my relationship with the company are: thank you very much!
What is your favorite part about working at Mercurio?
What I like the most is the interaction I have with all the employees. As I walk around the plant a lot, I meet up with a lot of people, including from other companies. I consider these encounters to be very important. Sometimes we can help with a quick conversation, by giving a little attention, or even sharing a smile. This experience is priceless. ​
How do you see Mercurio in the coming years?​
I expect Mercurio to continue to be this strong and respected company in the conveyor belt market capable of generating jobs and income for people. May it continue to modernize, grow, and who knows what else with a new plant!